Tournaments
Hearthstone Tournament Schedule
| Name | Prize money | Date |
| --- | --- | --- |
| | $ 350000 | 16.12.23 |
Recent Hearthstone Tournaments
| Name | Prize money | Participants | Date |
| --- | --- | --- | --- |
| | $ 50000 | | 28.10.23 |
| | $ 50000 | | 14.10.23 |
| | $ 50000 | | 19.08.23 |
| | $ 50000 | | 22.07.23 |
| | $ 50000 | | 27.05.23 |
| | $ 50000 | | 22.04.23 |
| | $ 500000 | | 16.12.22 |
| | $ 50000 | | 03.12.22 |
| | $ 50000 | | 12.11.22 |
| | $ 50000 | | 28.10.22 |
Hearthstone Tournaments: Basics and Details
Since its release in 2014, Hearthstone remains one of the top Blizzard products with its supposed killers launching and failing while the game remains a standard-setting title in its genre of strategic digital card games. Hearthstone tournaments attract thousands of viewers on Twitch who follow their favorite players, monitor the gaming events, and even pick interesting tactics for themselves.
And now we will cover everything that is worth to be known about tournaments in Hearthstone eSports – interesting facts, match features, most famous competitions, etc.
What Makes Hearthstone Tournaments Unique?
Unlike other popular eSports disciplines, Hearthstone is a game of wits with a dash of random. The strategy is key here but while developing it you should take your luck or possible misfortune into account. And a HS match is a fight between two opponents. The collegiate Hearthstone pro tournaments do exist — although, due to the game's format, they consist of match sets for each player where they have to best their opponent with one of the team's standard decks.
Rules and Format of Tournaments
A Hearthstone tournament can be held by Blizzard themselves or by a third-party organizer. They differ in both match and tournament formats which determine the rule of the particular competition. A common rule is bringing a certain number of decks each being of a different class. The winning deck could not be used again, but the deck that has been defeated, can.
The main match formats in the game are the following:
Conquest. Used in official Blizzard events, Conquest requires the player to win a best-of-three or best-of-five gaming series.
Last Hero Standing is the second popular gaming type used in official tournaments. To win this, the player should knock all the opponent's decks out of battle.
Shield-Phase Conquest is similar to Conquest but with players being able to defend their decks from banning.
Specialist is best-of-three or best-of-five match played with three decks of similar class.
The Element of Random
The luck of each player brings its own intrigue to the match as the cards from the deck are given randomly in each round of the match. Players should keep that in mind when making up their deck. If one relies only on rare and exclusive card combinations, they risk not getting any advantages in the battle being unfortunate enough to not draw the right card at the right moment. On the other hand, the random can totally save you by betraying your opponent and making their situation more promising for you. This little bit of chaotic energy makes Hearthstone tournaments more exciting.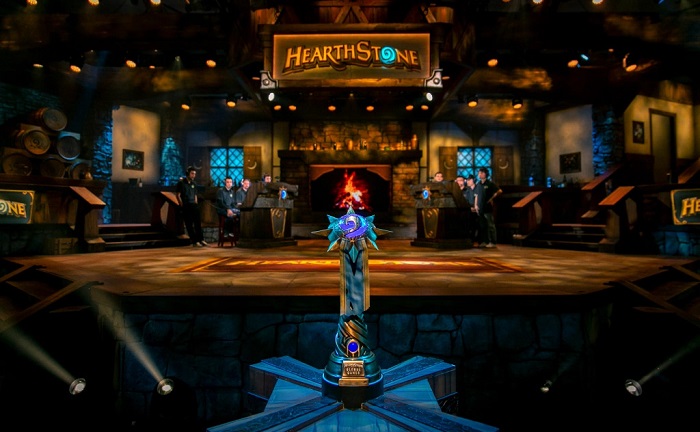 Each Player Has His Own Pool of Cards
Every competitor has their own deck build with a particular set of cards. They have cards they earned during their time playing and those can be very different — card packs being bought or won as rewards are pretty random, too.
The Need to Think about Every Move Makes the Game Similar to Chess
First of all, Hearthstone is a strategic game and that says everything. To succeed in a highly competitive environment, the player should learn to think ahead and be prepared for the opponent's moves, withstand a not-too-great card combination given by random or make a possibility of that as little as possible, use to their advantage possible card combinations, balance their minions, weapons, secrets, and spells to overcome the enemy and not risk too much at the same time.
How Often Are There Tournaments in Hearthstone?
Hearthstone tournament schedule is not as tight as, say, LoL or Dota tournaments, but every month gets pretty busy nonetheless. For an enthusiastic player, there are numerous Lobby Legends matches, a Collegiate National Championship, and, of course, seasonal and regional Masters that open an opportunity to qualify for Grandmasters on a glorious path to the Hearthstone World Championship.
Different Tournament Grids and Kinds of Peaks
The tournament bracket is the scheme that determines when the player cannot move further through the tournament and leaves. The standard brackets in eSports have been tested through the years in a variety of gaming disciplines and include:
Single Elimination is when the player leaves the tournament after the first loss.
Double Elimination system means that the player loses twice before their elimination.
Round-Robin system has no elimination process: every player meets every other player in turn, and after all the matches have been played, the winner is defined for their win-loss ratio.
Swiss system is a bit similar to Round-Robin (it has no eliminations also) but includes fewer rounds which are preferable with the large numbers of participants.
Dual format was introduced by Blizzard. It includes contestants playing in groups in four matches: Initial, Winner's, Elimination, and Decider with their names speaking for themselves.
Kinds of peaks can also vary from one Hearthstone championship to another, but these are the most common:
Blind. You have no information regarding the class your opponent picked so you have to play blindly.
Simultaneous. Also blind, but after the enemy chooses his deck, you get informed on his class.
In turn. This is a classical draft with rival taking and banning their decks in turns.
All About the Hearthstone World Championship
The World Hearthstone Championship is the most prestigious title that can be won in the game community. The Championship was established in 2014 with a prize pool of $250,000 and in 2022, the reward was $500,000, doubled in size. The tournament format also changed with time. The 2014 one was held in the Bo5 system with the Last Hero Standing format and three classes were granted for each player per match. The participants were selected through the regional playoffs.
The last Hearthstone World Championship format included 16 competitors from Grandmasters, Chinese Gold Series, and Masters Tour battling in a dual-tournament format leading to a single-elimination bracket. All the matches were Bo5 Conquest with a ban.
Let us look at the list of winners on major Hearthstone tournament proudly carrying the title of World Champions.
| Year | Location | Prize pool | Champion |
| --- | --- | --- | --- |
| 2022 | Online | $500,000 | Bunnyhoppor |
| 2021 | Online | $500,000 | Posesi |
| 2020 | Online | $500,000 | Glory |
| 2019 | Anaheim, USA | $500,000 | VKLiooon |
| 2018 | Taipei, Taiwan | $1,000,000 | Hunterace |
| 2017 | Amsterdam, Netherlands | $1,000,000 | Tom60229 |
| 2016 | Anaheim, CA | $1,000,000 | Pavel |
| 2015 | Anaheim, CA | $250,000 | Ostkaka |
| 2014 | BlizzCon 2014 | $250,000 | Firebat |
Learn Non-Standard Approaches of Top Players Watching Live Broadcasts of Tournaments
If you want to become a skilled professional in the Hearthstone eSports, make educated guesses regarding the game's conclusion, or even get to the top yourself, the best way is to study from the best. Watching the streams from online tournaments on Twitch or YouTube can give you valuable insights into game tactics and pretty cool and original moves. To keep track of upcoming Hearthstone tournaments, use the page with the schedule, venues, and links to all significant events — thus, you will have up-to-date information always ready for you.