Fortnite
Fortnite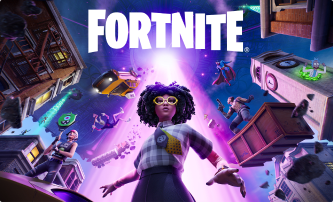 Site:
www.epicgames.com/fortnite
Description
Fortnite is the most successful game released by Epic Games. The title has three game mode versions: Save the World, Creative, and Battle Royale, with the latter becoming a real hit among eSports fans. The Battle Royale mode involves a player-versus-player competition with 100 gamers participating. They are airdropped to the game's map from the Battle Bus unarmed. Their task is to find weapons, resources, items, and vehicles to help them survive in a cruel rivalry. The last to remain alive gets the victory. The prize pools in major Fortnite tournaments reach dozens of millions of dollars, attracting millions of spectators and dozens of players willing to prove they are the best.
System requirements
OS:
Windows, macOS, Xbox, PlayStation, Nintendo Switch, iOS, Android
CPU:
Intel Core™ i5-7300U (3.5GHz) or AMD Ryzen™ 3 3300U
Graphics:
NVIDIA GeForce™ GTX 960 or AMD R9 280
Languages:
English, Portuguese, Japanese, Spanish, Polish, Arabic, German and 5 others
Upcoming Tournaments
No data here yet, but we're working on it.
Top 10 Fortnite Teams
№
Team
Rating
1.

100 Thieves

100 Thieves

-
2.

Atlantis

Team Atlantis

-
3.

Chiefs

Chiefs eSports Club

-
4.

C9

Cloud9

-
5.

COOLER

COOLER Esport

-
6.

CLG

Counter Logic Gaming

-
7.
-
8.

Dark Sided

Dark Sided

-
9.

DV1

Devils.one

-
10.

Envy

Team Envy

-
All Fortnite Teams
Top 10 Fortnite Players
№
Name
Team
Rating
Earnings
1

Fury Legendary

Aleksandr Svistunov

-
-
2

iRezUmi

Sergey Larkin

-
-
3

Safik

Павел Сафонов

-
-
4

Rotory

Daniil Kochukovskiy

-
-
5

l1nk

Vitaliy Nikolaev

-
-
6

7tor

Igor Golubtsov

-
-
7

HURMA

Dmitriy Geynts

-
-
8

Domentos

Domeniks Bunts

-
-
9

CHR1SWAVE

-

-
-
10

Jamside

Jamal Saydaev

-
-
All Fortnite Players